Military "Intervension" in Handling the Pandemic
Cawe-Cawe Militer dalam Penanganan Pandemi
At the beginning of the pandemic, the government involved the military to take control. This can be seen from the structure of the Covid-19 Task Force in Presidential Decree No. 7/2020 and its amendments in Presidential Decree No. 9/2020.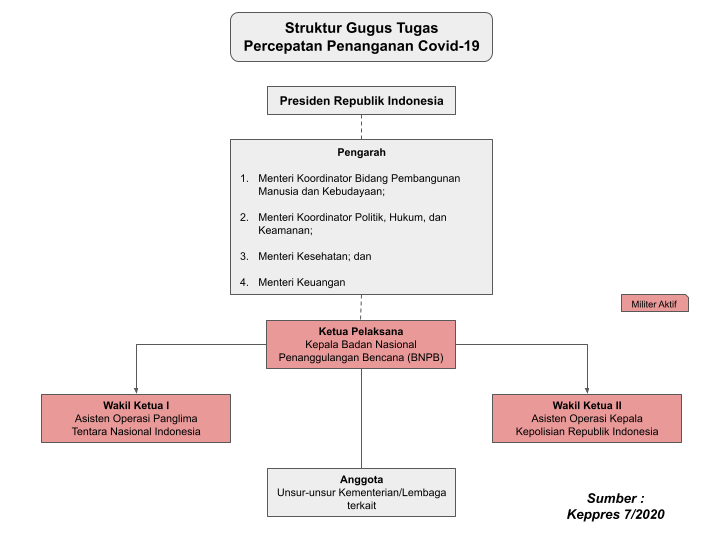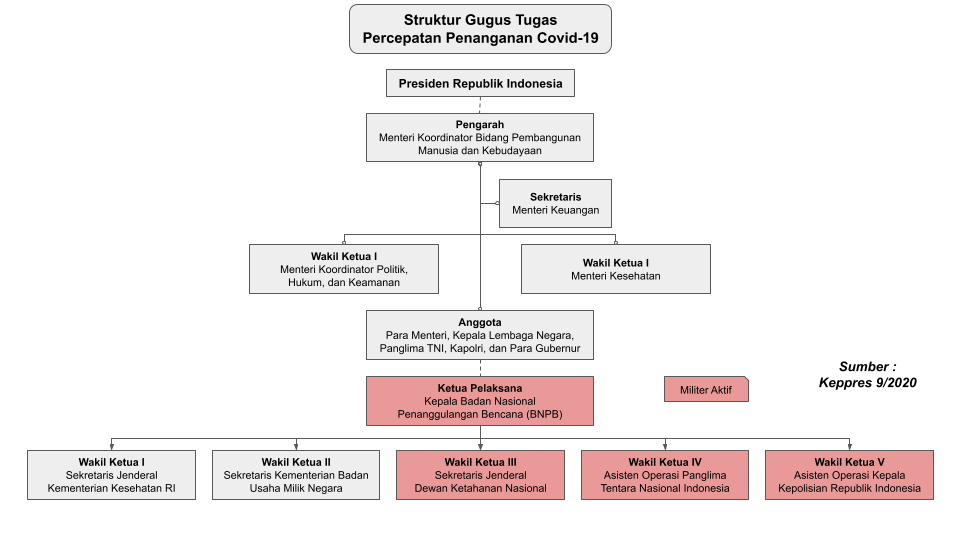 Misguided Authority
Instead of handing over authority to the health authorities, the government actually gives "more authority" to the military, including:
Close contact tracing officers from the TNI, especially Babinsa, are less effective.
Mobile RT-PCR test and Covid-19 drugs by BIN.
Enforcement of Health Protocols by TNI/POLRI, accompanied by physical sanctions.
Organizing Vaccination Centers by TNI/POLRI.
The presence of the military makes no difference in the Enforcement of Health Protocols
During the period from July 2020 to April 2021, LaporCovid-19 received 1,096 citizen reports regarding non-compliance with health protocols, despite the deployment of the TNI/POLRI.
Weak enforcement of this rule is exacerbated by the omission of official officials and representatives of the people who often hold activities that gather large crowds, but are not given sanctions. As a result, gatherings in public spaces continued, leading to an increase in infections at the community level.
Perpetuating Violence
Physical sanctions for prokes violators include push-ups, usage of water cannons, sleeping in coffins, beatings, torture, and excessive mass dispersal. In addition, military personnel was allowed to carry out repressive measures:
Emphasis on health workers at Wisma Atlet RSDC who voice their incentive rights while dealing with Covid-19
The arrests of demonstrators, who were then directed to gather in one place, so as not to keep a distance in police cars, did not wear masks and were asked to take off their clothes.
Source: 
Vaccination is still problematic
In mid-August 2021, more than 53 million Indonesians received the first dose of vaccine and at least 27 million people received the second dose. However, the implementation of the Covid-19 vaccination in Indonesia still leaves problems, especially with regard to unfair access and disproportionate penalties for refusing vaccination.
Vulnerable Groups Must Be Prioritized
The determination of prioritized vulnerable groups refers to the current limited supply of vaccines. Who are the prioritized vulnerable groups?
Stage I
Health workers, especially those who handle Covid-19 directly.
Seniors
Stage II
Residents with Comorbidities
Sociodemographic group with significantly higher risk of severe illness or death.
Educators and Education
Stage III
Public Officer (essential to public service)
public service)
Pregnant mother
Community groups who have essential jobs outside of public officials.
The Indonesian government does not seem to pay attention to vaccine equivalence. The government actually provides Covid-19 vaccinations for groups that are not a priority, such as celebrities, artists, to members of the DPR and their families, before priority groups get it.
Source:: https://www.cnnindonesia.com/nasional/20210226102721-20-611185/vaksinasi-dpr-dan-keluarga-tertutup-jurnalis-dilarang-liput 
Unequal Information
In fact, not all citizens get the same information, especially:
How to access Covid-19 vaccine (registration & scheduling),
Management of AEFIs (contacts, handling and results)
Impact:
There are doubts about vaccine safety, effectiveness, side effects, halalness, and others.
Some residents are still having trouble finding health facilities that provide vaccination services
This is exacerbated by the existence of domicile provisions as a prerequisite when registering for Covid-19 vaccinations.
Unnecessary Vaccination Administration Sanctions and Requirements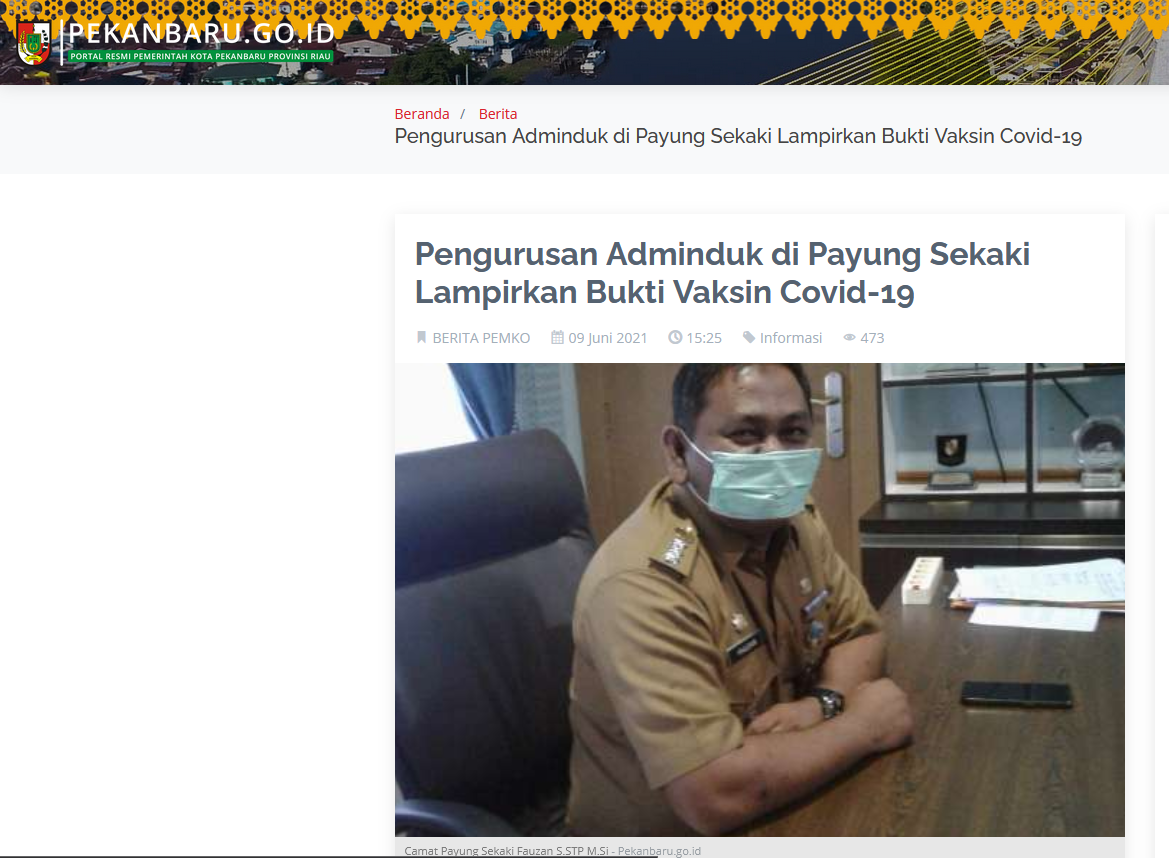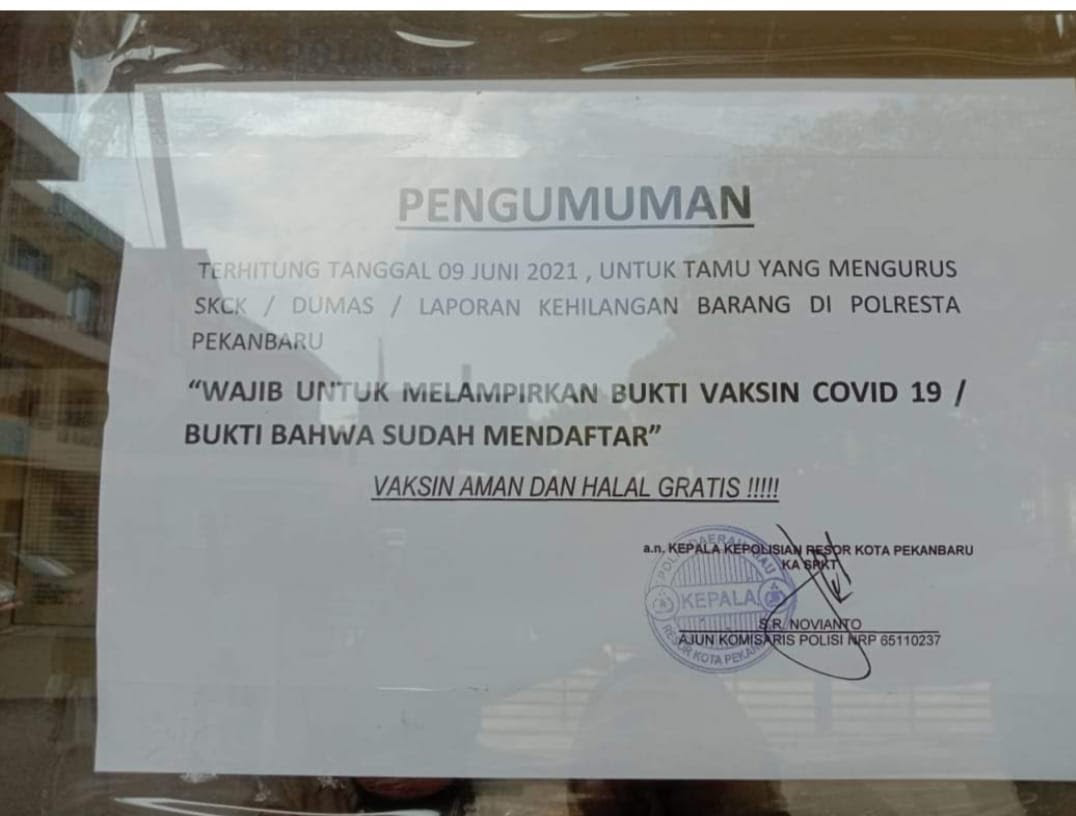 The application of sanctions for delaying or terminating social assistance is inappropriate and violates the 1945 Constitution and Law 36/2009 on Health, where everyone has the right to independently determine the type of health service and treatment according to their own will. Vaccines also cannot be used as other administrative requirements, such as SKCK, Certificate from the Village, KTP services, and so on.
Fulfillment of social security and public services is a right for every citizen and cannot be limited because they do not participate in the Covid-19 Vaccination
Pseudo-Communal work
This communal paid vaccination has three main problems.
Violating the constitutional mandate, that the state is responsible for the provision of proper health care facilities and public service facilities.
Manipulating herd immunity terminology to take advantage. Herd Immunity can only be achieved more quickly if vaccinations are given according to the priority of vulnerability, as well as ease and equality of access.
The intrigue of the regulation game, so that the existing provisions are inconsistent. In December 2020, President Jokowi stated that the Covid-19 vaccine was provided free of charge to the entire community. In fact, the government actually organizes Mutual Cooperation for Private Vaccinations and Individual Paid Vaccinations. Recently, Individual Paid Vaccination was revoked after pressure from the community.
Social Safety Net Corruption Risk
In 2020, the government launched six social safety net (Jaring Pengaman Sosial/JPS) programs to mitigate the impact of COVID-19 on marginalized groups.
additional recipients of Program Keluarga Harapan (PKH, a support in the form of cash and basic necessities intended for pregnant women to school children)
Food card,
Pre-Employment Card (Kartu Prakerja),
electricity subsidies,
additional market and logistics operations,
relief on credit payments for informal workers.
JPS budget in 2020 reaches at least IDR 203.90 trillion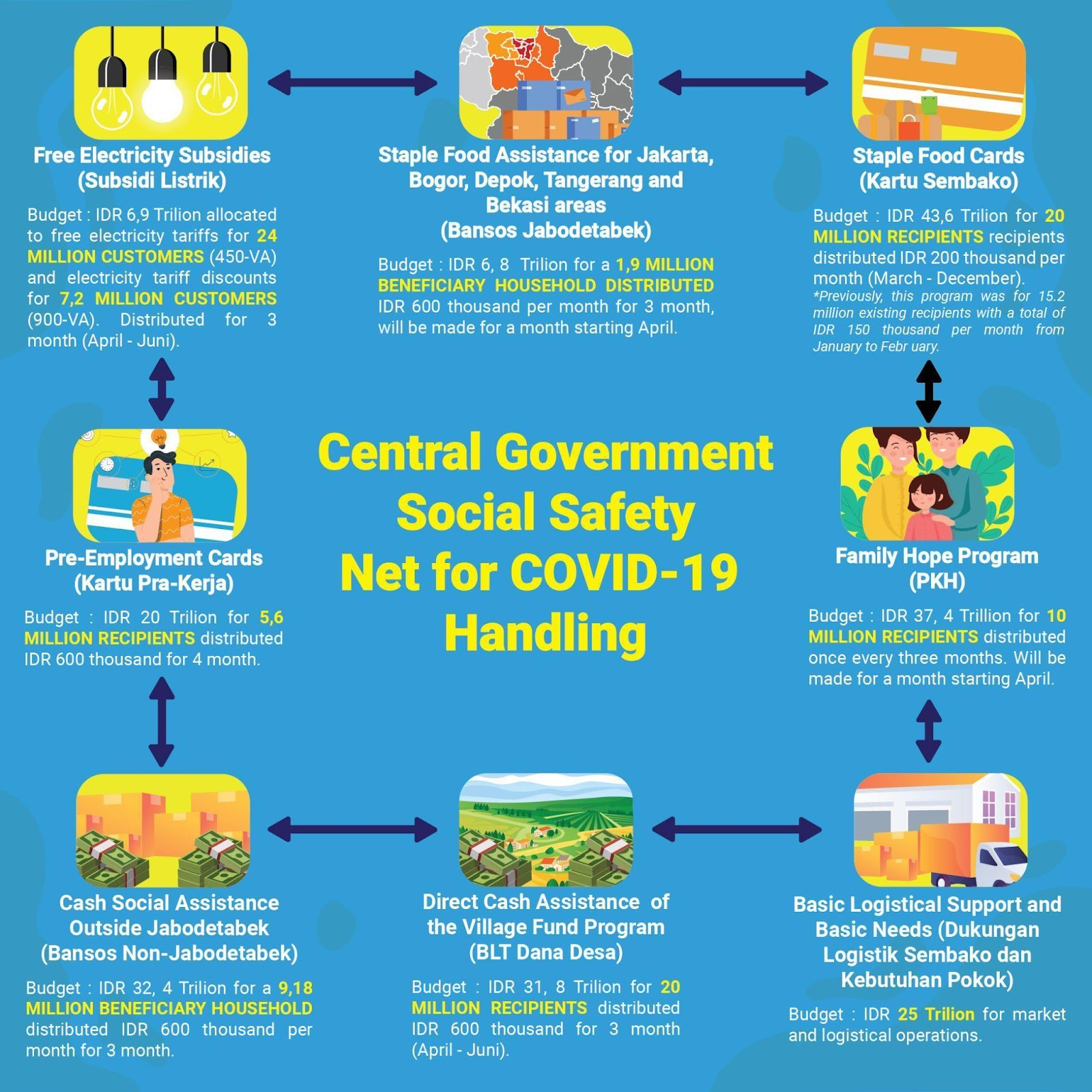 Problems Keep Recurring
However, JPS was unable to fully reach the people affected by the pandemic. As a result, there are still many residents affected by the pandemic and are entitled to JPS who have not received social assistance because:
Inadequate information about the registration
Bad data collection
Uneven distribution
Poor quality of social assistance
Corruption is Everywhere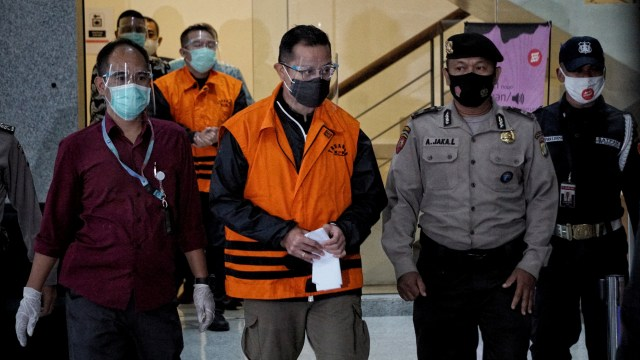 The corruption of social assistance funds by Juliari Batubara and other officials is only one of many problems. This corrupt practice can actually be found in elements ranging from neighborhood unit, community unit, village officials, third parties distributing social assistance, to regional heads. They use their authority and take advantage of loopholes in the lack of supervision and transparency of social assistance.
The politicization of social assistance funds, especially during the 2020 Regional Head Elections and the practice of corruption, collusion, and nepotism are also rampant.
Source: : https://nasional.kompas.com/read/2020/05/01/10420321/bawaslu-bansos-covid-19-ditempeli-foto-petahana-indikasi-politisasi

People are Still Having Trouble
JPS will be continued in the 2021 Fiscal year. However, numerous citizens complain about the same problem in 2020. This stifling situation will make it more difficult for society to get their right to social protection. Especially in the midst of the situation of restrictions on community activities and the difficulty of finding work or layoffs.